STRING INTO US!
OUR STUDIO MISSION
Our studio mission is to resonate children and families in thrilling soul-FULL musical memories that will inspire them to GROW into the BEST potential of who they truly are and WANT to BECOME!

At Ocean Strings Studio & Kindermusik with OSS we believe in experiencing the BEST of ourselves and others around us by stringing many meaningful MUSICAL moments... at EACH and EVERY CLASS.

By celebrating the unique and creative ideas each student, child and parent shares TOGETHER we form a musical FAMILY.

This is a BOND that will nurture and inspire them to not only grow as musicians but THRIVE as HUMAN BEINGS.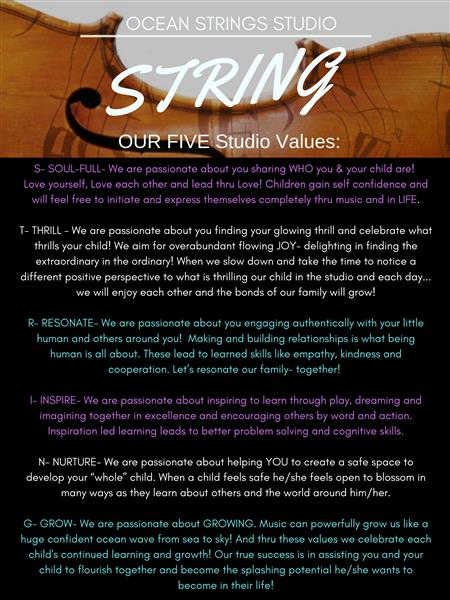 We welcome you to join our Ocean Strings Studio family
where we will S-T-R-I-N-G!

BE:
Soul-full in your love,
Thrilling in your joy,
Resonate authentically,
Inspire to excellence,
Nurture the "whole" potential child AND:
Grow and flourish as spectacular "waves" on the ocean of humanity!

Musical Wishes,
Richard & Nicole Ballinger
RESONATE WITH OUR STUDIO!
SIGNUP FOR YOUR FIRST CLASS!!!

RICHARD BALLINGER
Mr. Ballinger started playing the viola when he was 12 years old in public school in Lakeland, FL under the direction of Michael Sedloff and in the Imperial Symphony Community Orchestra. He later attended Florida Southern College where he graduated in 2000 with a Bachelor of Music Performance Degree. While at FSC, he was principal violist for the FSC Symphony Orchestra, and violist in the FSC String Quartet. He studied there under the direction of Arthur Pranno and Larry Sledge. Today Richard is an orchestra director at Oslo Middle & Storm Grove Middle Schools, where he has more than 150 string students. Richard came to Vero Beach in 2004 after teaching privately and directing youth orchestras in Stuart, Florida. He has performed in and as a soloist with several orchestras throughout the state of Florida. Richard is currently violist and co-founder of the Ocean String Quartet / Ocean Strings with his wife Nicole. He also occasionally functions as MPA judge for various Solo & Ensemble days and Orchestra festivals.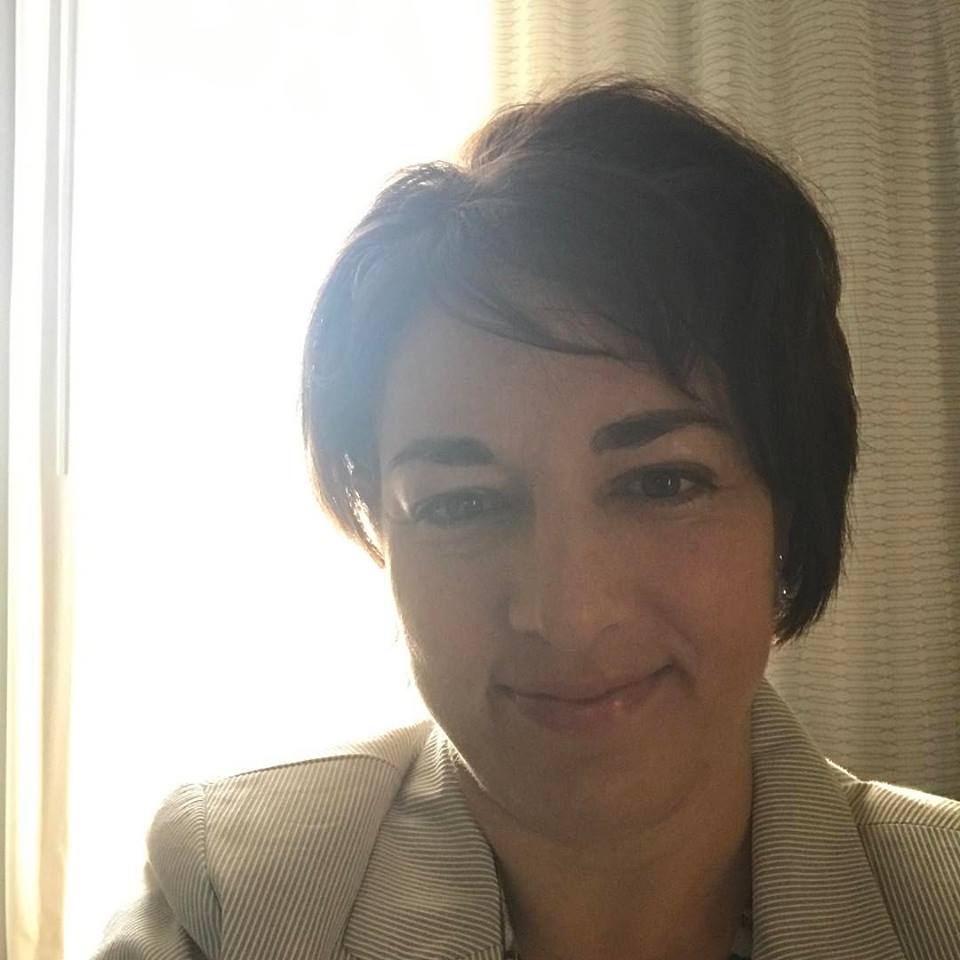 NICOLE BALLINGER
Nicole has been performing for 30+ years and started learning the violin at 6 years old under the direction of Ed Edwards, Cindy Nordstrum and other teachers in Rhode Island. After her move to Florida she continued in music performance with her husband Richard. Upon coaching in the Ocean Youth Orchestra, she began teaching beginning to intermediate violin students in their private studio. Over the past 10 years, Ocean Strings has had an alumni of over 100 students, some whom have gone on to win state competitions and/or join community and/or college orchestras.
She has performed with the Indian River Pops Orchestra and the Treasure Coast Symphony. She also has co-founded and is the event coordinator for the Ocean String Quartet and Ocean Strings (also listed on this website). Beginning in September 2003 the Quartet has since then performed for many weddings and special events. In the past they have appeared on a professional DVD advertisement for Treasure Coast Brides and are currently in production of a Quartet CD. She has also judged for the Florida Orchestra Association's All-State auditions and Music Performance Assessments for Solo & Ensemble Days in other Orchestra Districts.
ASSOCIATIONS:
FLORIDA ORCHESTRA ASSOCIATION (FOA)
MUSIC EDUCATORS NATIONAL CONFERENCE (MENC)
FLORIDA MUSIC EDUCATORS ASSOCIATION (FMEA)
AMERICAN STRING TEACHERS ASSOCIATION (ASTA)
SUZUKI ASSOCIATION OF THE AMERICAS (SAA)
OCEAN STRINGS CAFE
GET TO KNOW US:
What do you feel your best strengths are as a musician?
RICHARD:
I feel that my strengths in music are my abilities to focus on intonation, rhythym, and phrasing. I am constantly trying to improve those abilities. Sometimes its a challenge to listen to several students at once in an orchestra and try to figure out which section or student(s) is off and try to correct that. That helps to sharpen me when I am on a one on one lesson. I love seeing my students' progress and love to congratulate them at every opportunity!

NICOLE:
I feel that my strengths are to make learning fun for each student. I always try to tell my students all the things he/she is doing right first. This keeps them motivated and wanting to learn how to do even better. Trying different approaches for each student is important since we all learn in different ways.
What are your challenges/weaknesses?
RICHARD:
My weaknesses are my wife :-) Oh.. you mean in music? In music and in many other things.. many times I put too much on my plate to learn or to do at once. I love experiencing so many things and am a very energetic person! Sometimes this affects those around me.. as I love to challenge myself and others too. So, I have to gage this so as not to overwhelm my students.
Also, I can be a "little" disorganized in paperwork matters... I thank my wife for making sense of our offices and everything around my whirlwind of activity :-)

NICOLE:
I feel that my weakness is to procrastinate. That's why I love to journal my short and long term goals to remind myself what I absolutely need to accomplish each day :-) In regards to music this can affect my practicing. I have the same goals as my students- to have a specific objective every day. Having taken lessons myself growing up, I know how it feels to wonder where all the time went in NOT practicing and then hurriedly try to practice the day before or of the lesson :-) Learning more about how to do effective practice sessions is the key-- its not always about the time we put into practicing but in HOW we do it :-)
What do you both enjoy doing besides playing strings?
RICHARD:
I love everything and anything to do with the ocean! So, that's how we came up with the inspiration for our studio's name. When I'm not busy- herding, um I mean teaching :-) I'm having a blast surfing (I've been part of a student surf club in the past at our school), boating or swimming. We also love to speak other languages- French and Haitian creole. And love to play with Reine, our beagle and studio mascot.
NICOLE:
I love to relax on the beach with my family and friends and like doing a variety of other things- surfing (ok more like body boarding right now lol!)- on a good day :-) ballet / pilates exercise, gourmet cooking, photography, & poetry. Richard and I also spend 20+ additional hours every week volunteering with the Haitian creole community- among them are many children that we have enjoyed mentoring as well.